One of the most satisfying parts of my job is making sure every kid who comes into my library finds themselves reflected on my shelves and in my displays. In the Before Times, I worked hard to provide in-person, inclusive programming at my branch. My favorite memories come from partnering with The Culture Tree to bring South Asian-centered events to our patrons. One such event was a wonderful Diwali celebration in 2018, which included storytime and crafts. Not only were our South Asian kiddos excited to have their holiday recognized in the library, but they had a blast teaching other children about their families' religion and culture.
Diwali celebrates the triumph of good over evil and light over darkness, giving it the nickname "festival of lights." There are many stories connected to Diwali. The one I'm most familiar with is Rama's rescue of his wife Sita in the Ramayana. Diwali is observed not only in Hinduism, but also some parts of Buddhism, Jainism, and Sikhism, making it a multicultural and interfaith holiday. Plus, who doesn't love celebrating with delicious treats like coconut ladoo?
I'd love to hear what you think about this Diwali list. Which are your favorites? Are there any titles I forgot? I'd love to hear from you in the comment section below.
Archie Celebrates Diwali by Mitali Banerjee Ruths and Parwinder Singh
Archana loves her family's annual Diwali party, and this year she gets to share it with all her friends from school. She helps with the decorations and the food, and is eager for everyone to arrive. But once the party starts a thunderstorm kicks up and drenches the outside decorations and knocks out the power. Archie worries that everything will be ruined. How can there be a festival of lights without any electricity?
Bookshop | IndieBound | Amazon | WorldCat
Amma, Tell Me about Diwali! by Bhakti Mathur and Maulshree Somani
Amme Tell Me is a charming and informative series of children's books that introduces the major Hindu festivals and figures to young readers, and are perfect for families wanting to share stories of Hinduism with their children or for educators looking for resource on the Hindu culture for their students. Written in rhyme with vivid, captivating illustrations, this series brings Hindu mythology to its readers in a fun and non-preachy way.
Bookshop | IndieBound | Amazon | WorldCat
Baby's First Diwali by DK Publishing
Learn all about the amazing festival of light with your little one! Baby's First Diwali perfectly captures the joy of this special celebration and is an ideal preschool learning introduction to the traditions of the holiday.
Bookshop | IndieBound | Amazon | WorldCat
Binny's Diwali by Thrity Umrigar and Nidhi Chanani
Binny is excited to talk to her class about her favorite holiday. But she struggles to find the words. Taking a deep breath, she tells her classmates about the fireworks that burst like stars in the night sky, leaving streaks of gold and red and green. She shares with them delicious pedas and jalebis. And she shows them clay lamps, called diyas, which look so pretty all the children ooh and aah. Featuring a heartwarming story by Thrity Umrigar, enchanting illustrations by Nidhi Chanani, and detailed information about the Hindu festival of lights, Binny's Diwali is a holiday treat.
Bookshop | IndieBound | Amazon | WorldCat
Counting to Diwali by S. C. Baheti
Bring the magic of Diwali home with this incredible book. Learn how to count from one to ten in Hindi, all the while sharing in the excitement of the festival of lights. This book is a great way to reinforce language learning, as well as building an integral part of Indian culture with your family, in a fun and colorful way.
Bookshop | IndieBound | Amazon | WorldCat
Crayola: Diwali Colors by Mari C. Schuh
Glowing oil lamps, brown henna designs, colorful rangoli artwork–colors are everywhere during Diwali Explore the colors of Diwali through eye-catching photos and engaging text. Back matter features the Crayola colors used throughout the book and includes a reproducible coloring page.
Bookshop | IndieBound | Amazon | WorldCat
Diwali by Hannah Eliot and Archana Sreenivasan
Each autumn we gather with our friends and family and light our brightest lanterns. It's time for Diwali, the festival of lights! In this lovely board book with illustrations from Archana Sreenivasan, readers learn that the five days of Diwali are a time to pray for a bountiful season, celebrate the special bonds between siblings, and rejoice in the victory of light over darkness and good over evil.
Bookshop | IndieBound | Amazon | WorldCat
Diwali: Festival of Lights by Rina Singh
During Diwali, Hindus, Sikhs and Jains celebrate the legends and stories that describe the triumph of good over evil and justice over oppression. Critically acclaimed author Rina Singh explores her Indian roots as she tells the Diwali stories, which remind us that eventually light will prevail over darkness. Enriched by personal stories and spiced with festive recipes, including two by acclaimed chef, Vikram Vij, Diwali: Festival of Lights brings to life the holiday's traditions, food and rituals and takes you on a journey to see how this festival is celebrated around the world!Diwali is the second book in the Orca Origins series, which examines how ancient traditions are kept alive in the modern world.
Bookshop | IndieBound | Amazon | WorldCat
Diwali Lights by Rina Singh
Every year in October or November people come together to celebrate Diwali. It is the biggest and the brightest of all Hindu festivals. The stories woven into the festival of Diwali celebrate the victory of good over evil and light over darkness, and people celebrate this festival of lights by lighting clay lamps and candles, sharing sweets, exchanging gifts, offering prayers to gods and goddesses and watching fireworks. Introduce your little one to the awe of this brilliant festival through dazzling photographs and Singh's lyrical prose.
Bookshop | IndieBound | Amazon | WorldCat
Diwali: the magical diyas by Anitha Rathod
This Diwali, Jay and Tina make 101 clay diyas and cannot wait to light them all. Diwali is only a day away and the diyas are taking their own sweet time to dry up. Will they be ready in time? Will Jay and Tina celebrate the festival with the bright lights of their diyas?Learn the legend behind the most celebrated festival in India and understand the rituals and traditions associated with Diwali. The book brings you a magical story and the mythological significance of Diwali celebration. Come, let's celebrate Diwali with Jay and Tina as they prepare and look forward to celebrating this special day with their family.
Bookshop | IndieBound | Amazon | WorldCat
A Dog Named Haku by Nicole Karanjit, Amish Karanjit, and Margarita Engle
It's the Festival of Lights in Nepal, and today is the day to honor dogs! Brothers Alu and Bhalu wander the streets of Kathmandu, passing by twirling kites and bamboo swings, looking for a dog to feed. But as night falls, their task begins to feel hopeless, until they spot a small black dog who is in need of a friend. This sweet story presents an important Hindu holiday through the eyes of two young boys, making it relatable for both those familiar with the holiday and those reading about it for the first time.
Bookshop | IndieBound | Amazon | WorldCat
Happy Diwali! by Sanyukta Mathur and Courtney Pippin-Mathur
This joyful family story follows a little girl from dawn to dusk as she draws rangolis to welcome guests, prepares food with her family including pani puri and chana masala, dresses up in colorful clothing, participates in the puja, and lights the diyas in honor of Diwali: the Hindu festival of lights. Excitement, history, and traditions abound in this vibrant celebration of Diwali, complete with a glossary, and delicious recipes for mango lassi, sukhe aloo, and puri.
Bookshop | IndieBound | Amazon | WorldCat
Let's Celebrate Diwali by Anjali Joshi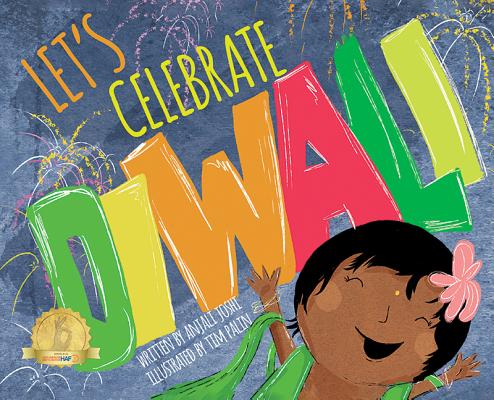 IndieBound | Amazon | WorldCat
Lights, Camera, Diwali! by Amita Roy Shah
Light, Camera, Diwali! helps children gain a better understanding of Diwali, the Indian festivals of lights. Through this engaging story, children learn how Indian-American families celebrate Diwali in their homes. Dia receives a camera as a Diwali gift and uses it to capture her memories of this special day. She takes photos of her family decorating clay lamps, creating unique rangoli designs, preparing sweets called ladoos, setting off firecrackers and more! This captivating story also helps children learn why Diwali is celebrated. While Dia explores the rituals of Diwali with her camera, children learn about a Prince named Rama who was exiled into a forest for 14 years. After fighting off a demon, he is welcomed back into his city with a "row of lights." Children learn about how Diwali teaches us that light will overcome darkness and good will conquer evil.
Lots of Lights by Kavita Sahai
A fun Diwali story that explains each day of celebration. Helping children understand Indian culture allows them to be better global citizens, and for Indian children in America, it allows them to learn about their culture in a fresh and relevant way.
Bookshop | IndieBound | Amazon | WorldCat
Prince of Fire by Jatinder Nath Verma and Nilesh Mistry
Action-packed from start to finish, this dramatic new chapter book version of India's great epic, The Ramayana, will have boys and girls alike on the edge of their seats. Full-color illustrations throughout vividly bring the story of Diwali to life, while courageous heroes and dastardly villains make Prince of Fire the perfect choice for any child with a love of adventure.
Bookshop | IndieBound | Amazon | WorldCat
Shubh Diwali! by Chitra Soundar and Charlene Chua
Diwali has arrived! Rangoli art decorates the floor and strings of flowers hang around the doors. Now it's time to ring the bells, light the lamps, and welcome the new year with family and friends. A sweet introduction to the Hindu festival of lights.
Bookshop | IndieBound | Amazon | WorldCat